---
Seating is truly one of the most difficult things to navigate as a fat person. Are the restaurant chairs sturdy? Do they have arms? Does the place only have booths? What if they only have high bar stools? What if I get to this choir practice and there aren't chairs at all? Seating is an access issue that thin people generally don't even think about, but a bad chair situation can ruin a fat person's entire day.
And finding sturdy chairs for our own homes can even be a challenge. Most retailers and manufacturers don't even include weight capacity in their listings. I can't tell you how many times I've had to dig through reviews for an idea of whether a chair can hold me. I've even read through the American Standard for Commercial and Office Seating specifications in my chair investigations (side note: commercial seating only needs to be rated to 253 pounds to qualify; this is why fat people have so many chair trust issues.)
So I've gathered a lot of information through trial and error over the years, and, since retailers won't make finding chairs easy on fat people, I've taken matters into my own hands. Below you'll find a totally not-comprehensive list of chairs that I've tried and had success with. I'm only including options that are rated for 500 pounds or more here because, let's be real, supersize people are the ones who are most in need of information like this. And if you've found another option that's sturdy and affordable, let me know and I'll add it to the list!
(This article includes affiliate links. If you make a purchase using one of these links, The Fat Lip will receive a small percentage from the sale.)
I love to cook, but I need to have a chair in the kitchen to sit on when I'm doing extensive prep. I moved to a new apartment recently, and my kitchen is U-shaped which means there's just no good place to park a chair. What I really needed was something that was sturdy, comfortable, and that didn't have a huge footprint. I needed to be able to move it around easily and to get around it when I was working in my kitchen. It doesn't look like much–I was definitely dubious about how sturdy it would be–but it's the perfect fit for my needs. It feels solid, moves easily (even with me on it,) and doesn't get in my way. I have no illusions that it will last forever, but it's a great, inexpensive tool to have around. I'm ordering a spare as we speak!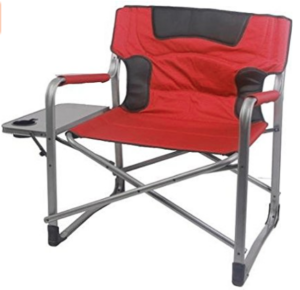 Camp chairs are one of those things that very fat people have struggled with for years. Even those that do have a capacity over 300 pounds are generally super uncomfortable–that traditional umbrella style chair is killer on the thighs. A supersize friend mentioned this chair to me last year, and I was intrigued by the directer-chair structure. A folding camp chair that wouldn't be torture on the legs? I was in. And when I got this thing, I was even more impressed. It is WIDE (over 25 inches across the seat) and the vertical side supports make it much more comfortable than any other camp-style chair I've ever tried.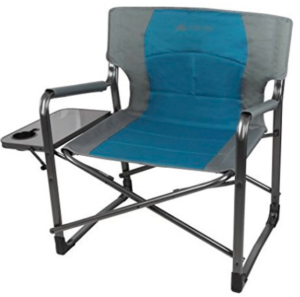 The Ozark Padded XXL Director Chair is so 2016. This "Big Boy" (ugh) version is the new model for 2017 and it boasts a 600lb capacity (compared to last year's 500.) Other than that, this seems to be the same chair. The dimensions are the same (including that nice wide seat,) and I don't know exactly what about this one provides that extra 100 pounds of coverage, but I'm still into it. Plus, new color options!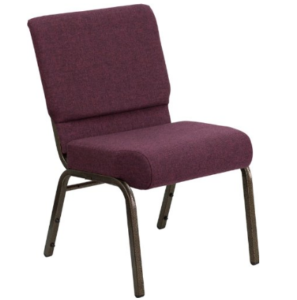 If you're looking for something that's akin to those banquet chairs in hotel ballrooms but that is guaranteed to hold you, these Flash Church Chairs are the way to go. I have this model in black, and it's solid as a rock. I wouldn't want to sit on it for more than a few hours (my friends and I refer to that too-long-in-a-banquet-chair pain as "banquet butt") but if you need a chair that doesn't look TOO different than every other chair at your all-company meeting, this is a good option. And if you've got a gathering space that you'd like to be accommodating to fat people, these are the chairs you should be buying. They stack! I promise they won't take up too much space!
This is the big brother of the Flash Church Chair above. It's 3 inches wider (24 inches to the Church Chair's 21) and rated for 1000 pounds. I will say that I found this version less comfortable than the smaller one, Those supports that jut out on the sides of the seat were pretty rough on the backs of my thighs, but if you need the extra peace of mind of the higher weight capacity, this one will work just fine for you.
This is the chair I used to use in my boyfriend's kitchen. It's light, easy to move around, and totally adequate for short kitchen prep. I will say though that, even though I am well under 1000 pounds, I broke this thing eventually. Not in the scary, explode-y, crash to the floor way, but one of the welds that held up the back of the seat broke one day while I was doing dishes. It was after heavy (pun not intended but still appreciated) use, and this chair is one of the cheapest on the list, so I still feel like it's worth it. It lasted me about 8 months, and for 30 bucks, I think that's a pretty good deal.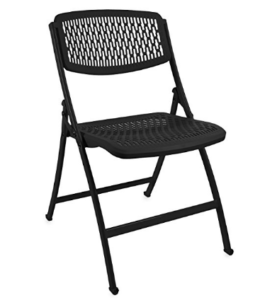 This is the most portable option on the list, and that's super important. A few superfats I know keep one of these bad boys in their trunk just in case. It's a light, easy to carry chair that's perfect to pull out if you find yourself in a place where the seats just won't work. I don't find it super comfortable–it's no wider than your average folding chair, so I find myself perched on the edge in a way that isn't great–but it's such a great tool for seating emergencies and it's by far the easiest on this list to take with you. Totally worth picking one or more up to have on hand.
Was this blog post helpful to you? Let us know what other types of fat-needs-specific products you're looking for!