**Updated November 2019**
When I first compiled this list of chairs for fat people, I had tried a dozen or so seating options and had had varying degrees of success. In the past couple of years, though, my butt has been hard at work sit-testing dozens more options, also to varying degrees of success. Today I present to you an update to my original post–this time with many more chairs (and more!) and serving many different needs. I've organized this updated post into categories to make it easier to navigate. I hope you find the seating solution you need here! -A
A Big Fat Problem
Seating is truly one of the most difficult things to navigate as a fat person. Are the restaurant chairs sturdy? Do they have arms? Does the place only have booths? What if they only have high bar stools? What if I get to this choir practice and there aren't chairs at all? Seating is an access issue that thin people generally don't even think about, but a bad chair situation can ruin a fat person's entire day.
And finding sturdy chairs for our own homes can even be a challenge. Most retailers and manufacturers don't even include weight capacity in their listings. I can't tell you how many times I've had to dig through reviews for an idea of whether a chair can hold me. I've even read through the American Standard for Commercial and Office Seating specifications in my chair investigations (side note: commercial seating only needs to be rated to 253 pounds to qualify; this is why fat people have so many chair trust issues.)
So I've gathered a lot of information through trial and error over the years, and, since retailers won't make finding chairs easy on fat people, I've taken matters into my own hands. Below you'll find a totally not-comprehensive list of chairs–many that I've personally tried and had success with–for fat people. I'm only including options that are rated for 500 pounds or more here (with one exception in the Outdoor section) because, let's be real, superfat and infinifat people are the ones who are most in need of information like this. And if you've found another option that's sturdy and affordable, let me know and I'll add it to the list!
(This article includes affiliate links. If you make a purchase using one of these links, The Fat Lip will receive a small percentage from the sale. Also, many of these items are from Amazon, regretably. Unfortunately they have the best possible selection, and if you are on a budget this is probably your best bet. If you don't have Prime, you can get a 30 day free trial here.)
Stools
$59.98 with Free Shipping
https://amzn.to/2NuSqgV
When I first posted about this stool, I mentioned that I had no illusions that it would last forever. Here we are two years later, though, and this thing is still going strong! I initially bought it to use in my very small kitchen (I sit to prep and cook) but I've since moved to a new place with much more space, so I've moved this chair to my bathroom vanity. I have another kitchen solution now (more on that later), but this stool has performed and lasted much better than I expected and holds much more than 500 pounds. It's back in stock now and I'm ordering a spare.
$349.00 Plus Shipping
https://bit.ly/2ysVEci
This ottoman is small but mighty! It's a tad expensive, but this is the real leather version and it is BEAUTIFUL and super sturdy! I first sat on this guy at a friend's house and I was amazed at how well-made it is–the frame is all metal. It's well worth the price tag, and Pottery Barn often has nice sales that will save you $100 or more!
Indoor
One chair: $61.93 with Free (not Prime) shipping
https://amzn.to/33uuaRrh
If you're looking for something that's akin to those banquet chairs in hotel ballrooms but that is guaranteed to hold you, these Flash Church Chairs are the way to go. I have this model in black, and it's solid as a rock. I wouldn't want to sit on it for more than a few hours (my friends and I refer to that too-long-in-a-banquet-chair pain as "banquet butt") but if you need a chair that doesn't look TOO different than every other chair at your all-company meeting, this is a good option. And if you've got a gathering space that you'd like to be accommodating to fat people, these are the chairs you should be buying. They stack! I promise they won't take up too much space!
Note: I have had bad luck ordering these chairs in the 4 pack. Twice they came totally damaged and then I had a hell of a time getting them sent back. Buyer beware.
$78.45 with Free (not Prime) shipping
https://amzn.to/2NxygTA
This is the big brother of the Flash Church Chair above. It's 3 inches wider (24 inches to the Church Chair's 21) and rated for 1000 pounds. I will say that I found this version less comfortable than the smaller one. Those supports that jut out on the sides of the seat were pretty rough on the backs of my thighs, but if you need the extra peace of mind of the higher weight capacity, this one will work just fine for you.
One chair: 45.98 with Free Shipping
https://amzn.to/2p0CMQR
Five chairs: 235.50 with Free Shipping
https://amzn.to/2WWVqWf
This is the chair I used to use in my now-husband's old kitchen. It's light, easy to move around, and totally adequate for short kitchen prep. I will say though that, even though I am well under 1000 pounds, I broke this thing eventually. Not in the scary, explode-y, crash to the floor way, but one of the welds that held up the back of the seat broke one day while I was doing dishes. It was after heavy (pun not intended but still appreciated) use, and this chair is one of the cheapest on the list, so I still feel like it's worth it. It lasted me about 8 months, and for 46 bucks, I think that's a pretty good deal.
One chair: 58.60 with Free Shipping
https://amzn.to/36NZmNR
Five Chairs: 239.57 with Free Shipping
https://amzn.to/33vV1wv
This one is similar to the last in that it's lightweight and has that sled base. The comfort advantage of this one, for me, is that it has the rolled front edge–much easier on the backs of the thighs. The weight capacity isn't as high, and I'd venture to guess that you wouldn't want to spend too much time on this guy, but if you need a light chair that you can stack up when you don't need it, this is a good option.
$113.84 and Free Shipping
https://amzn.to/2Q029xf
Finally, a high weight capacity chair that doesn't look so utilitarian! I got two of these in the black on black version, and I'm really happy with them. They're nice and deep and super sturdy. The frame and legs are made of resin, but this isn't the flimsy patio resin chair that every fat person fears–this chair is solidly built. This would be super pretty as a vanity chair or even for a little bit of a fancy vibe in your dining room. Bonus: they are rated to 900 pounds!

$47.85 with Free Shipping
https://amzn.to/33xAbwK
I know this one looks dubious, and if you've ever been to a summer wedding you've probably seen a much less substantial version of this chair. This one, though, is rated to 1000 pounds and is made of the same sturdy resin as the King Louis one above. Plus, check out those double leg stabilization supports on three sides. I haven't had a chance to actually sit in this one yet, but it's next on my Goldilocks list and has excellent reviews. For less than $50, it's worth a shot!
Also, if you're having a wedding anytime soon, please please consider grabbing a few of these for your fatter guests and then making sure they know where to find them for the ceremony/reception. I can't tell you how much anxiety I feel when I'm invited to a wedding because I know the seating is going to be questionable at best. (Also never, never expect your fat guests to use those white wood folding chairs. I'm shuddering in terror even thinking of it.)
Four Chairs: $359.89 with Free Shipping
https://amzn.to/2p0sakX
If you're looking for dining chairs with high published weight capacity, Flash Furniture's Hercules line is where you need to be. They have a few different shapes and back styles, but this one is a classic. Plus the 800 pound capacity is good and generous. These are the dining chairs I keep eyeing and will probably invest in soon.
Portable/Folding
4 chairs for $100.08 with Free shipping
http://amzn.to/2AjOJ5

(NOTE: If you are a business owner or event host, this isn't the best option. I would not ask very fat people to sit on this for more than ten minutes or so. I strictly recommend this for emergency situations. It's just not comfortable enough or reliable enough to use for long periods of time. Opt for the church chairs above instead for events.)
This is one of the most portable options on the list, and that's super important. A few superfats I know keep one of these bad boys in their trunk just in case. It's a light, easy to carry chair that's perfect to pull out if you find yourself in a place where the seats just won't work. I don't find it super comfortable–it's no wider or deeper than your average folding chair, so I find myself perched on the edge in a way that isn't great–but it's such a great tool for seating emergencies and it's by far one of the easiest on this list to take with you. Totally worth picking one or more up to have on hand.
$23.99 plus Free Shipping
https://amzn.to/33JNyKg
I know this little cube doesn't look like much, but hear me out. This thing not only holds 660 pounds (it really does, I promise), but it folds down flat and becomes about the size of a medium pizza box. That means you can slip it in a tote bag and take it with you virtually anywhere! It's a little low to the ground at only 15″ high, but it'll do in a pinch for most people. If you're short, even better! This is one of those items that I always have handy. I even stick it in my suitcase when I travel just in case I end up in a hotel room or something with inaccessible seating. You probably don't want to sit on this every day or for hours at a time, but for emergencies it's a lifesaver.
Office
$248.80 with Free Shipping
https://amzn.to/2Co1IoC
This is the reliable "big and tall" chair that fat people have been telling each other about for years and years. It's not cheap by any means, but unfortunately finding a 500+lb capacity office chair for less than $200 is maybe impossible. Some find this chair sits too high, so keep that in mind. If you're using it in a home office environment and you don't need the wheels, though, I've had pretty good luck taking the casters off of chairs like this so that they sit at the perfect height.
$225.74 with Free Shipping
https://amzn.to/2WVMsIW
This is another good option for your home office. This one has arms, so if you want those you have the option, but the way these arms are attached (to the seat bottom rather than holding the seat and back together) makes them totally optional. When you're assembling, just leave 'em off. I like this chair because it has a metal base–those molded plastic ones always seem shifty to me.
242.57 with Free Shipping
https://amzn.to/2Q7mIbn
Ignoring the fact that they call this chair "oversize" in the title, I like this one because the arms flip up–that way you can lower them or leave them upright at your leisure. I haven't sat on this one, but the fact that there are pocket coils in the seat (instead of just foam) is a good sign that it's going to hold its shape pretty well.
$1499.00 with Free Shipping
https://amzn.to/2NPmhj2
Believe me, I know. This chair is very expensive. This is the link you want to pass on to HR or your office manager so it can come out of your company's budget. My boss ordered this chair for me at my last office job, and it was really great–fully adjustable and actually ergonomic. It's pretty pricey and probably out of reach for a lot of individuals, but your comfort at work is so important, so if you need something like this, don't be afraid to ask for it!
$664.75 with Free Shipping
https://amzn.to/2X72u2Z
This chair is also quite expensive, but it is super wide and sturdy (4 square-set wheels instead of the traditional one-post-on-a-star-frame) and is one of the only 600 pound office-type chairs I've come across. When I have more space I'm definitely going to invest in one of these big boys.
Living

$516.99 with Free Shipping
https://amzn.to/2NtQ2XC
If you're a mid-century modern type, this is a great piece, and the 700lb capacity is pretty generous. Keep in mind that that is 700 pounds total weight, not per seat, but this should work pretty well for most people. Plus there's this cool orange option that is quite a bit cheaper! https://amzn.to/2X2QK1d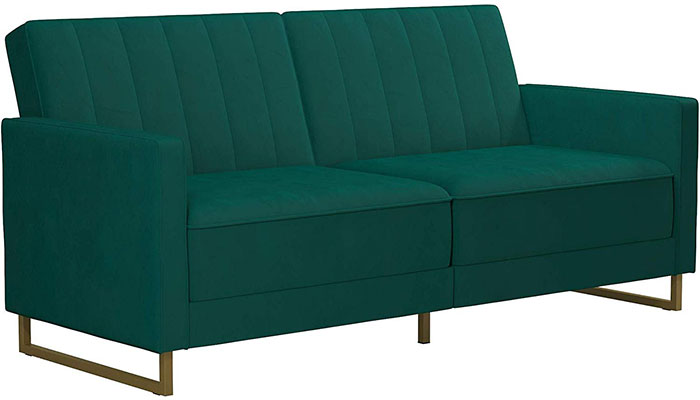 $455.99 with Free Shipping
https://amzn.to/2NxwZLW
The color on this one makes me so happy, and I love that it has a center support. Keep in mind again that the 600 pound rating is a total weight capacity, so if you're using this as a sofa bed, make sure it can accommodate your guests. Mostly I just want to have this beauty around just so I can look at her. *heart eyes*
$1949.97 plus Shipping
Okay, this is one of the few things I'm showing here that doesn't have a published weight capacity. However, this is the actual couch I own and can tell you that it very comfortably holds over 600 pounds per seat. It has a strong power recliner, and each of the three seating spots is very wide. I love this couch so much we moved it from upstate New York to Texas, and this thing is HEAVY. If I can, I'll order this baby again and again as it wears out.
$149.00 plus Shipping
This is another item that's better bought in-store, but I couldn't make a list like this without including this ottoman. It is a must-have in my home–I actually own two of them–because it is the perfect wide, sturdy seat when I need it. This is a storage ottoman which usually makes me nervous–hollow storage area usually means less structure and more collapsibility. This one is somehow very, very solid and I will never not have at least one nearby. All hail the mighty Ektorp. (This guy is even cheaper if you buy the regular Ikea cream color, by the way.)

Outdoor
$67.79 with Free (not Prime) shipping
Red: http://amzn.to/2zkg0Gr
Blue: http://amzn.to/2hHs7Uy
Camp chairs are one of those things that very fat people have struggled with for years. Even those that do have a capacity over 300 pounds are generally super uncomfortable–that traditional umbrella style chair is killer on the thighs. A supersize friend mentioned this chair to me last year, and I was intrigued by the directer-chair structure. A folding camp chair that wouldn't be torture on the legs? I was in. And when I got this thing, I was even more impressed. It is WIDE (over 25 inches across the seat) and the vertical side supports make it much more comfortable than any other camp-style chair I've ever tried. I'd also say that the 500lb weight limit is conservative. This thing easily holds 600 pounds.
$99.99 with Free Shipping
https://amzn.to/2NvQche
With seating dimensions very similar to the Ozark Trail director's chair above, this is a great alternative. It's quite a bit more expensive, but the OT one is often out of stock or the price is somehow outrageous, so if you're in a bind, this one will perform just as well. It also has a stated weight capacity of 600 pounds, so it'll be nice and sturdy for most fat users.

$143.63 with Free Shipping
https://amzn.to/33w9hFE
And now for something a little bit different. Are you looking for an outdoor bench option? This might work for you. This is just the thing I've been wanting for our little back patio. It's rated to 600 pounds total, so keep that in mind if you intend on sitting on it with another person.
$239.99 + $39.00 Shipping
https://amzn.to/2NNbNk0
Another bench option here! This one is rated to 800 pounds, so it's quite a bit sturdier and can better accommodate a second person. This one is all real wood and features Amish construction, so this is the kind of piece that will probably last you. If you're missing the gliding, though, check out this version from the same maker: https://amzn.to/2K2holJ.
$89.97 with Free Shipping
https://amzn.to/2NuEFyz
Okay, this one is not my find and it is not expressly rated to 500 pounds, BUT, KellyBellyOhio has multiple of these and has had over 600 pounds in one of these bad boys and they are still going strong. Check out her Instagram for more details including how to sit in it safely! If I had a yard, I'd be snapping one of these up.
671.99 with Free Shipping
https://amzn.to/33GkQu9

This is the dream, honestly. It's 28.5″ wide and rated to 800 pounds! Someday when I have a pool I will have a couple of these beauties for lounging for sure. There's a matching loveseat (also 800 pound capacity) and sofa (880 pounds) also!
Was this blog post helpful to you? Let us know what other types of fat-needs-specific products you're looking for!